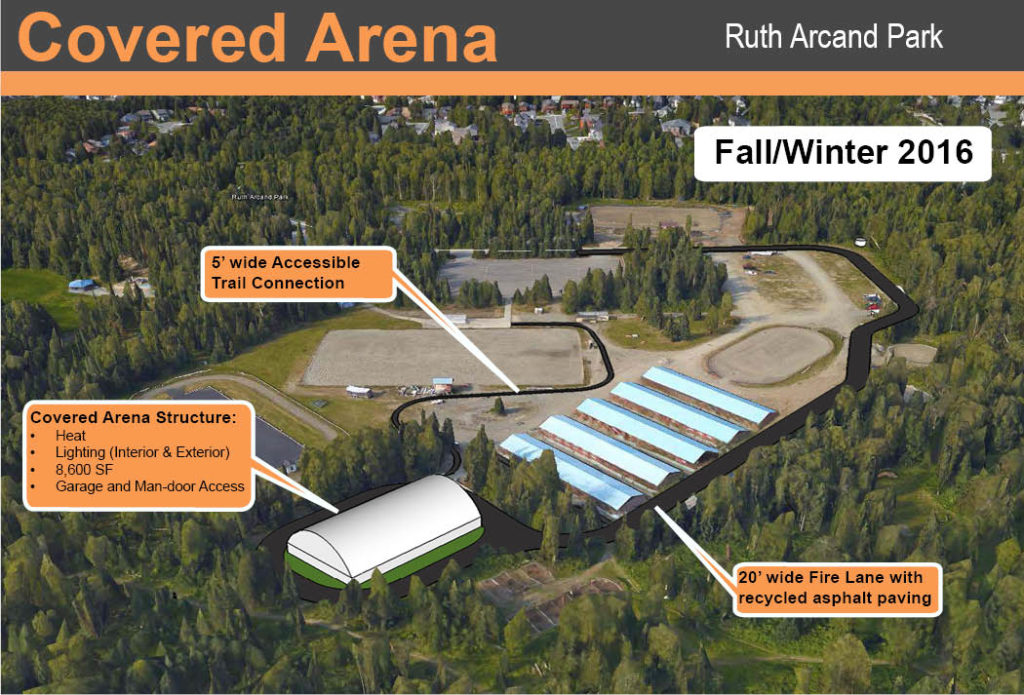 On behalf of the EATA Board of Directors and staff, I'm proud to announce that on February 19th we received our indoor riding arena permit from the Municipality and on April 27, 2016, we were generously gifted the remaining funds to construct the Covered Riding Arena!
2016 will be the year we finally see the dream of a year-round indoor riding arena become a reality!
It's our honor to thank and publicly acknowledge the
Reitman Family Charitable Trust, and the
Stanley H. Reitman Family Charitable Purpose Fund
for the gift that will continue to support EATA's mission, the public, and the equestrian community for decades to come!
As a longtime supporter of our program, I hope that you share in our excitement over this great news. This day would still be a long way off without your past and continuing support.
We share credit for this great news with our partners at the Anchorage Horse Council (AHC), the Anchorage Park Foundation (APF), and the Municipality of Anchorage, Parks and Recreation Division. Their financial and technical assistance has been invaluable.
The APF will work with our project management contractor, The Boutet Company, to oversee the successful completion of the riding arena and the connecting upgrades and improvements at the William Clark Chamberlin Equestrian Center.
We will update you on the project's completion by sending an invitation to the ribbon cutting ceremony this fall. It will certainly be an exciting event for us all!
Thank you again for all your support, and please join in celebrating this great news!
A very special thank you to our Coverall supporters and donors, past and present! It's been a long journey and you made it a reality!!
2 Friends Gallery
Abbott Loop Community Council
Alaska Coverall
Alaska Healing Hearts
Anchorage Horse Council
Alaska Mental Health Trust
Anchorage Downtown Rotary
Anchorage Parks Foundation
Anonymous Donors
Bettisworth North
The Boutet Company
Carlile Transportation Systems
Coldfoot Engineering
EPS Electric
Huffman O'Malley Community Council
Joint Base Elmendorf-Richardson (JBER) members
Municipality of Anchorage,
Parks and Recreation Division
Port of Anchorage
Rasmuson Foundation
Rodeo Alaska
Stantec (Formerly, USKH)
State of Alaska
Former Lt. Gov. Meade Treadwell
Weaver Brothers
Reitman Family Charitable Trust
Stanley H. Reitman Family Charitable Purpose Fund
And the many individuals who have put in countless hours in support of the initiative, design and permitting, and Capital Campaign for the Covered Riding Arena (Coverall) Project!
James Barnett
Jim and Lori Boltz
Jim and Susan DiMaggio
Stephen and Angela Ribuffo
Former Rainbow Connection/EATA Board Members
Anchorage Government Officials, Representatives, and workers, past and present
And most importantly,
EATA (Rainbow Connection's) founder,
Annie Mabry