Key Staff
Mr. Tim Brady – Morning Barn Manager Extraordinaire!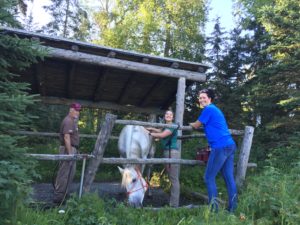 Hi, my name is Tim Brady. I'm usually known as "Mr. Brady" or "Barn Boss" or sometimes I suspect, behind my back, "The Old Guy". I am a retired Air Force Officer. I served 30 years active duty mostly as a fighter pilot flying F-16's. What was it like? Well, hard to describe but flying upside down at 300 feet and 600 knots is exciting, possibly beyond your wildest imagination! Better than any video game!  After retiring from the Air Force I worked for 9 years at the Alaska Railroad helping maintain locomotives and railcars. Six years or so ago I heard the CEO of the Rainbow Connection, later to become EATA, speak at my Rotary club. She mentioned that they always needed volunteers. I was looking for something to do so I volunteered. You may ask why so let me tell you.
There were 3 main reasons. First, when I was growing up my uncle reminded me of how fortunate I was to have been reared in a loving, supportive, extended family and a community that allowed me to be what I could be. He told me that as an adult I needed to find a way to pay back that debt. Whether as a sport's coach or involved in PTA or whatever I needed to find something to pay back my unearned good fortune. EATA provided that opportunity. Secondly, I like horses, actually almost any animal. Being around them gives me a sort of inner peace and tranquility. Lastly, the people I associate with. People like Ms. Widmer and Ms. Call and the Board who are committed to helping others reach their potential. People who are willing to put aside personal desires to help others fulfill theirs. People that see opportunity where some see obstacles. They give me hope in mankind and make me smile. Then there are the volunteers, mostly youngsters, who help me with all the mundane tasks of horse care and maintenance. Several have been with me for 5 or more years and I get a few new ones every year. I get to see them grow up and mature. I have learned from them and maybe even they from me, enjoy being around them and they make me laugh.
So it's easy to see why I choose to volunteer for this program – it is worth my time and gives me deep personal satisfaction on many levels. If you are looking for a worthwhile volunteer opportunity look no further, EATA is for you.
---
Janie Call – Coming soon.
Samantha Lahti – Coming soon.
Rebecca Widmer – Coming soon.
Summer Staff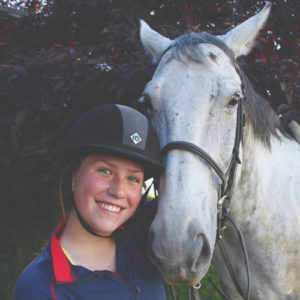 I first became involved with Equine Assisted Therapy Alaska six years ago, when I had just started horseback riding. When I started volunteering I had no experience with horses or with disabled children and young adults; however, throughout my time being part of the EATA community, I have gained both a wealth of equine knowledge and a passion for service. My favorite part about being at EATA is seeing the progress that both children and young adults make during the summer. I'm extremely excited to be working as volunteer coordinator this summer, and I cannot wait to work with all volunteers, clients, and horses.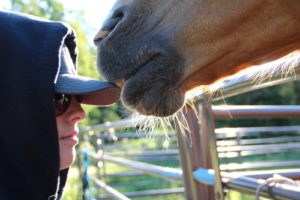 ---
Johnna Drew is an accomplished Barrel Racer and member of the Rodeo Alaska community in Alaska. She joins us this summer as EATA's Equine Trainer! She will keep the program horses in tip top shape this year and we're grateful to have her join us! Johnna understands the need for a relationship built on respect and the greater purpose in developing the bond between the rider (or trainer) and the horse.
Independent Contractors:
Kimberly Wallis – Coming soon.