Program Mission
Equine Assisted Therapy Alaska (EATA) is a 501(c)(3) nonprofit organization, our mission is to enhance the physical, psychological, and social well-being of Alaskans living with disabilities through therapeutic horsemanship. We offer equine-assisted activities and therapies, including a program specifically for veterans titled, "Freedom Reins."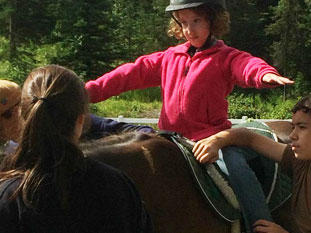 Program Participants 
EATA serves three clients an hour, five days a week, between 6-8 hours a day and over a span of 6-8 weeks.
In 2015, 118 clients participated in our 7 week summer program. EATA beneficiaries live primarily in the Anchorage and Mat-Su areas, but we also served clients from rural Alaskan communities. 18 veterans participated in our Freedom Reins program in 2015; 15 as part of a program specifically for homeless veterans finding recovery and healing at the Veterans Affairs (VA) Domicilary.
EATA continues to partner with three pediatric clinics in the Anchorage area to provide hippotherapy: Alaska OT Services, Alaska Pediatric Therapy, and All For Kids Pediatric Therapy.
EATA provides multi-faceted benefits to individuals with a wide-range of physical, neuromuscular disorders, learning and/or language disabilities, hearing, visual and cognitive impairments, behavioral and emotional disorders. Some specific conditions include: amputations, functional spinal curvature, Cerebral Palsy, Spina Bifida, Multiple Sclerosis, Post-Traumatic Stress Disorder, Traumatic Brain Injury, Autism Spectrum Disorder, Down Syndrome, Attention Deficit Hyperactivity Disorder, and Fetal Alcohol Syndrome.
Participant Demographics
Participant demographic make-up consists of 58% Caucasian, 31% are Alaska Native, 6% are Hispanic, 3% are African American, and 2% are of Asian descent. Seventy-Six percent of EATA participants are under 18 years of age and Sixty-Four percent are male.
Programs
Equine-Assisted Therapies (EAT) are sessions run by licensed occupational, physical, speech-language therapists/pathologists, or mental health specialists with a PATH certified riding instructor. During sessions, clients ride a therapy horse and work to fulfill the goals set by the therapist. There are unique challenges not present in clinical setting that encourage the client to engage in a task that few able-bodied individuals are capable of accomplishing mentally or physically. For thoses with limited mobility, the horse's gait provides a unique opportunity for the client to move his or her body in a manner similar to walking, as the horse's gait mimics an individuals natural walk (or gait). This movement exercises their legs and back, while it strengthens their core.
Equine-Assisted Activities (EAA) are the many activities that occur at the center, whether the rider is on the horse or not. This can include stable management, grooming, learning basic horsemanship skills, shows, and other demonstrations. For the majority of the participants, equine-assisted activities involve mounted or therapeutic riding in the arena or on the trails with a PATH certified riding instructor and a group of volunteers. The goals vary from rider to rider, yet a general goal is to work on self-confidence, teamwork, social development, and to gain independence. This environment also improves the rider's core strength, manual dexterity, and flexibility.
"Freedom Reins" focuses on active, reserve, separated, and retired men and women of the Armed Forces suffering from the effects of military service. This program is a rehabilitative program and aims to give riders true freedom from their limitations, while rebuilding their confidence and self-esteem.
Non-Discrimination Policy
Equine Assisted Therapy Alaska does not and shall not discriminate based on race, color, religion (creed), gender, expression, age, national origin (ancestry), disability, marital status, sexual orientation, or military status, in any of its activities or operations.